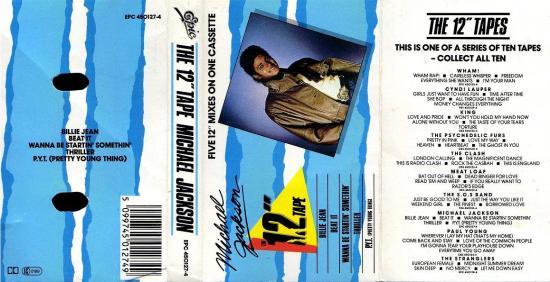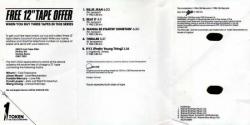 Titre : The 12" Tape
Date de sortie de l'édition originale : 1986
Date de sortie de cette édition : 1986
Pays de fabrication : UK
Pays de commercialisation : UK
Référence : EPC 450127-4
Arrière de la jaquette ci-contre. Cliquez pour agrandir.
Cette cassette fait apparement partie d'une série de 10 cassette à collectionner(ce qui n'est pas le cas du pressage CD).
Les autres artistes cités sont : Wham!, Cyndi Lauper, King, The Psychedelic Furs, The Clash, Meat Loaf, The S.O.S Band, Paul Young et The Stranglers.
Un concours était organisé. Il suffisait d'envoyer la preuve d'achat (à découper sur la jaquette de la cassette) accompagnée du nom et de l'adresse pour gagner une cassette dont voici la tracklist : Wham! (Club Tropicana), Alison Moyet (Love Resurection), Freddie Mercury (Love Kills), Cindy Lauper (Girls Just Want To Have Fun) et Wang Chung (Dance Hall Days).
Plus d'infos sur les 12" Mixes (Cassette et CD) sur la page : COFFRETS / BEST OF > The 12" Mixes