HMV, un réseau de distribution de bien culturels Anglo-Saxon (un équivalent de notre Fnac en quelques sortes), a sorti une édition dont il a l'exclusivité.
Côté DVD, rien de différent par rapport à l'édition Anglaise de base. L'interêt réside en fait dans un lot trois "répliques de backstage pass" (passes pour les coulisses) qui ne sont en réalité que des cartes.
Cette édition n'était disponible qu'aux internautes qui la commandait sur le site hmv.com
Contenu : - DVD 1 : Le Film / 2 documentaires / 4 reportages (The Gloved One - Costumes, Memories of Michael,
Auditions : Searching for the World's Best Dancers and The Unfinished Rehearsals) / Bande
Annonce.
- DVD 2 : Meet the Dancers (reportage sur les danseurs) / Meet the Band (reportage sur les musiciens) / Meet
the Vocalists (reportages sur les choristes).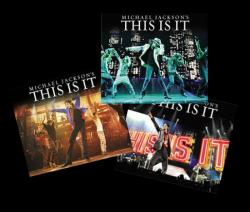 Date de sortie : 22 février 2010
Pays d'origine : Angleterre
Nombre de DVD(s) : 2
Complément(s) : 3 Répliques de Backstage Pass en 3D (ci-contre, cliquez pour agrandir)
Réf : CDR69320CE02
Retrouvez-le parmi ceux de sa catégorie : THIS IS IT > Le Film